Monthly Membership
October 2020 Highlights
LIVE classes + NEW Recorded classes

 

– 10 am Pacific Daylight Time (Vancouver)

Monday – Hatha Yoga (4)
Wednesday Hatha + Yoga Nidra (4)
Thursday – Cross Training – includes pilates, core strength and more (5)
Friday – Functional Restorative (5)

Membership Coffee Time – 2 x
REPLAY OF LIVE CLASS

 

available within 24 hours 
BONUS VIDEOS – 5 minute short video workout and 1 minute pose "how to"
OVER 65 classes from previous months

 

– watch any time of the day or night "Barbara on Demand"
Curated music playlists

 

for classes, when appropriate.
Weekly newsletter
Online Facebook group exclusively

 

for members with Yoga With Barbara Crompton
YOUNGER THIS YEAR – eBook and contemplative talk/Q&A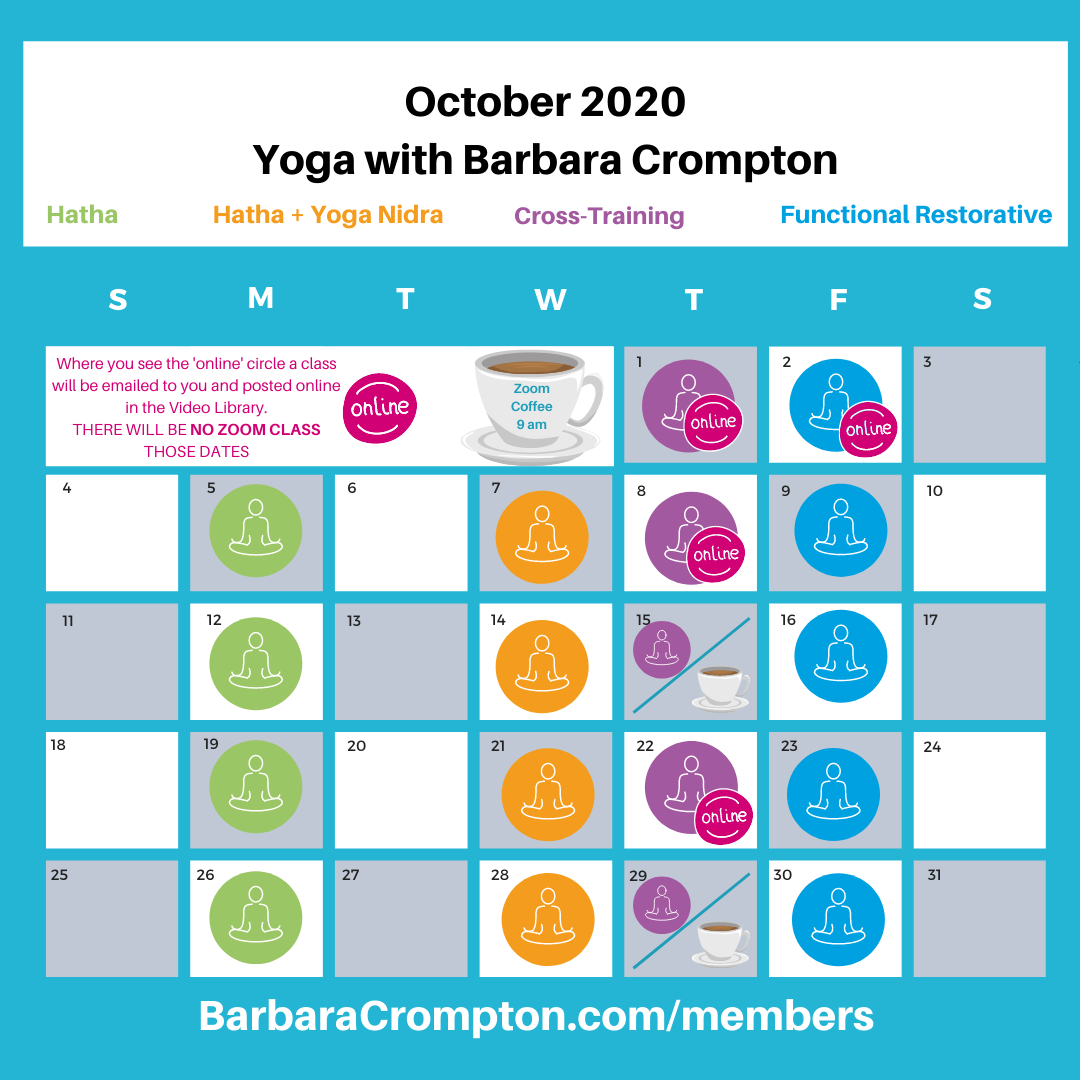 Just loved the class from Thursday. July 23
the HITT and Balance.
I'm really grateful for all the hard work that you two put into the classes and getting the classes out to us.
thank you, Nadine
You are a true teacher….
my teacher.
MG
After taking your classes online it has been my great pleasure to now  get to spend meaningful time with you.
I want to thank you for your incredible classes.  They have made a huge positive difference in my life right now, physically, emotionally and spiritually.  I am extremely grateful for them and follow you four times a week. I think I am stronger now because of them and also walking every day.  I am fortunate to live in such a beautiful city with so many great opportunities for walks.
And so. I thank you from the bottom of my heart and  hope you keep doing them.
CH – May 2020
Thank you so much for offering these wonderful classes! Because of the time difference, I take the class after it's been downloaded and really appreciate that flexibility. I also love that I can actually take classes with you even though I live several time zones away! I took my first yoga class ever while visiting my sister in Vancouver a number of years ago and feel blessed to be able to reconnect virtually.
– Leslie:  June 2020 –