"Younger Next Year" by authors Chris Crowley and Harry Lodge is one of the books I life my life by. I highly recommend picking up a copy, but here is my adaptation to get you started.  ~ Barb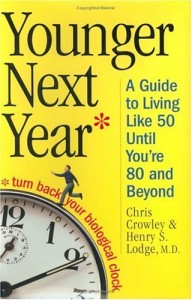 Here are some VALUABLE lifestyle habits to adopt. You only have one life, no dress rehearsals so get younger every year and subscribe to the following philosophies…..
Buy a heart rate monitor/step counter watch (cheapest and best Smart heart at Wallmart or London drugs about 30.00). Put your watch on in the morning when you get up, take off at bedtime. It is part of you now.
To be younger next year …
6 moving days a week …..walk, dance or run 5,000 steps a day (30,ooo steps a week) if you are just starting out exercising, increase by 1,000 steps every month until you reach 10,000. If you are active do 10.000 steps a day (aerobic, Zumba , circuit class equals 5,000 steps, Barb's power pump yoga 4,000 steps).  Just move.
FOR THE REST OF YOUR LIFE……..THERE IS NO NEGOTIATION……..IT IS YOU JOB (yes, I am yelling at you …..do you hear me?)
4 days a week elevate your heart rate (within your 6 moving days) for 20 -60 consecutive minutes to 100 to 120 beats a minute. Run, bike, swim, dance, hike, walk fast.
FOR THE REST OF YOUR LIFE…….THERE IS NO NEGOTIATION…..THIS IS YOUR JOB (did you clean the wax out and hear this?)
3 days a week, if you are fit and want to boost all of your systems push your heart rate in your aerobic workout to 120 to 140 beats per minute. 1 minutes intense and then 3 minutes of aerobic level of 100 to 120. Repeat 8 times. Walk hills, do run sprints, hike up a mountain, speed up your aerobic movement.
FOR THE REST OF YOUR LIFE…..THERE IS NO NEGOTIATION….THIS IS YOUR #1 JOB (I hear these sweet sounds of advice)
Recovery heart rate is the most effective indicator of your fitness levels. After a sprint……wait 1 minute….take your heart rate and if it drops by 30 or more beats you are in good shape.
2 to 3 days a week do strength and stretch training (join a gym, get a trainer, go to circuit classes, go to Barb's Hatha and power pump yoga classes)
THERE IS NO NEGOTIATION……for the rest of your life
Quit eating the crap and clean up your lifestyle.
THIS IS FOR THE REST OF YOUR LIFE…….
Deeply Care about something living, quiet your mind, intensely connect with humanity by giving back, know your life's purpose and live it
START NOW…..JUMP IN …..IT WILL SAVE YOU
Commit…… Fall off the wagon, who cares…..climb back on , hang on tight and the ride like the wind and the journey will be smoother than you could ever imagine.
BEST OF ALL YOU WILL LIVE A LONG JOYOUS LIFE FILLED WITH ADVENTUROUS EXPERIENCE.
As the famous poetry Mary Oliver says:
"I was the bride married to amazement and the groom that held the world in his arms."
Many blessing…hang in….email me if you need a KEDGE (shot in the arm, a kick in the butt, loving energy sent your way)
Many blessings!
Barb
A fitness and business professional with an extensive resume, Barbara Crompton made a decision to shift direction and explore yoga, meditation and travel.  Hundreds of people have benefited from her decision.
Like Barbara, you can decide what you need for your life, right now…visit her online at www.barbaracrompton.com