"Younger Next Year" by authors Chris Crowley and Harry Lodge is one of the books I life my life by. I highly recommend picking up a copy, but here is my adaptation to get you started.  ~ Barb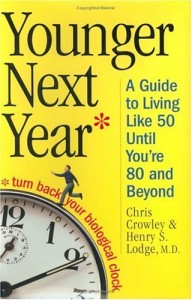 Here are some VALUABLE lifestyle habits to adopt. You only have one life, no dress rehearsals so get younger every year and subscribe to the following philosophies…..
Buy a heart rate monitor/step counter watch (cheapest and best Smart heart at Wallmart or London drugs about 30.00). Put your watch on in the morning when you get up, take off at bedtime. It is part of you now.
To be younger next year … Continue reading »