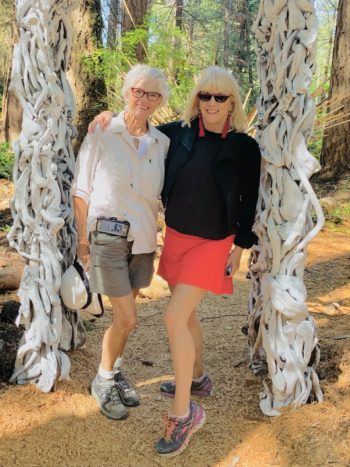 My dear friend Carolyn, my maid of honour at my first wedding and an avid on line yoga regular sent me her magic potion for a healthy gut and constitutional regularity.  It is delicious.
This photo was taken to celebrate our deep friendship on our Motorhome trip to Vancouver Island.
Ingredients:
5 cups large flake rolled oats (not instant)
1/2 cup desiccated (or flaked) unsweetened coconut
1 cup wheat bran (can increase to 1.5 if desired)
1/2 cup wheat germ
1/2 cup ground flax seed
1 cup soya flour
1 cup of a mix of seeds: sesame, pumpkin, sunflower (whatever is to hand)
1 cup raisins
1 cup mix of chopped nuts: almonds, walnuts, brasil nuts (not peanuts)
1 cup mix of chopped dried fruits: apricots, figs, dates, prunes
2 cups water
1 1/2 cups vegetable oil
1/2 cup honey (optional)
Method:
Put rolled oats in large bowl and mix in 1 cup water
Put remaining water and oil in small bowl and mix. If using honey, heat all three ingredients in microwave then whisk.
Add all dry ingredients on top of oats.
Mix everything in the large bowl using hands or wooden spoon.
Add wet ingredients to dry ingredients and mix.
Spread onto 3 large heavy cookie sheets covered in wax paper, or cook separately if using just one cookie sheet.
Toast the muesli at 300 degrees for 20 minutes. Check after 15 minutes to make sure not burning.
Add cooking time until desired level of toasting is done. Some people like it crispy and some like it soft.
If a clumpy consistency is desired do not stir during toasting.
Cool on the cookie sheet, break it up and store in air tight container, preferably in fridge.
Serve with plain or fruit yogurt plus fresh berries if desired.